Komen MA Why do you give? Video Features Community Servings
Program Highlight: Our Meals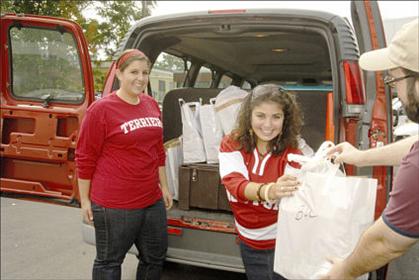 Our meals program improves our clients' quality of life, health, and ability to perform daily activities. Along with lunch, dinner and a snack, we deliver a message reminding our sick neighbors that they are not alone in their struggle with life-threatening illness.
---
Recipes
Roasted Butternut Squash and Brussel Sprouts
Roasted butternut squash and Brussel sprouts - the must have side dish for your dinner table in 2015. It's a hearty combination of fall vegetables that's amazingly easy to cook, and pairs well with any entree. Created with our clients appetites in mind, this recipe calls for salt and pepper only, but feel free to add whatever spices you and your family enjoys - we hear curry adds great flavor!
Thanks to
Blogging over Thyme
for the photo.
Demographics
Clients Above vs. Below 150% of the federal poverty income level (percentage)
Healthy Eating Tips
Concerned about your cholesterol? Watch out for saturated fat! Saturated fat is commonly found in animal products. Choose lean meats and low fat dairy. Read food labels, and try to buy and eat foods with less than 2 grams saturated fat per serving.
Frozen or fresh? Frozen fruits and vegetables are just as nutritious and tend to be cheaper than fresh, especially when buying out of season produce! Be sure to buy frozen fruits and vegetables without added sauces, sugar, and salt.
---