Komen MA Why do you give? Video Features Community Servings
Program Highlight: Our Meals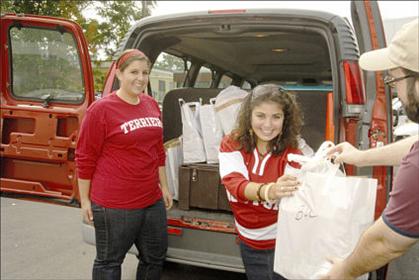 Our meals program improves our clients' quality of life, health, and ability to perform daily activities. Along with lunch, dinner and a snack, we deliver a message reminding our sick neighbors that they are not alone in their struggle with life-threatening illness.
---
Recipes
Susie's Homemade Salsa
Created by our Registered Dietitian, Susie Robertson, this homemade salsa recipe has so much flavor, you won't believe it's salt-free! It tastes great with tortilla chips, burritos, or even on top of an omelette.
Demographics
Clients Above vs. Below 150% of the federal poverty income level (percentage)
Healthy Eating Tips
Did you know? The ingredient that's used the most is listed first on the food label. Read food labels to be sure you're buying what you really want.
Modify your recipes for better health! If a recipe calls for sour cream, use non-fat or low fat plain yogurt instead. You'll reduce total fat, saturated fat, calories, and cholesterol!
---