Komen MA Why do you give? Video Features Community Servings
Program Highlight: Our Meals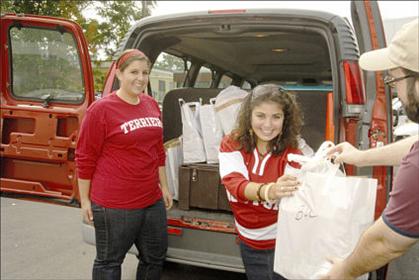 Our meals program improves our clients' quality of life, health, and ability to perform daily activities. Along with lunch, dinner and a snack, we deliver a message reminding our sick neighbors that they are not alone in their struggle with life-threatening illness.
---
Recipes
Indian-Spiced Stir Fried Cabbage with Peas
Community Servings nutritionists are always looking for creative ways to help our clients fall in love with vegetables! This dish from Chef Suvir Saran is packed with flavor, fiber, colorful antioxidants, and powerful inflammation-fighting spices, while remaining low in calories, fat, and sodium. Cabbage is in the cruciferous family and, in addition to its other health benefits, is rich in a particularly potent antioxidant compound known to help prevent a variety of cancers, including bladder, breast, colon, and prostate.
Stir fried cabbage with peas is a great meal for the end of the week because it uses hearty vegetables that keep well in the refrigerator for more than a couple of days. Adding a healthy protein like chicken, shrimp, or tofu, transforms this from a side dish into a main event. Serve atop a whole grain like brown basmati rice. If you are sensitive to spice, feel free to decrease or eliminate the red chiles, or to substitute a milder variety like Anaheim pepper.
Photo by
Justin Smith
Demographics
Clients Above vs. Below 150% of the federal poverty income level (percentage)
Healthy Eating Tips
Frozen or fresh? Frozen fruits and vegetables are just as nutritious and tend to be cheaper than fresh, especially when buying out of season produce! Be sure to buy frozen fruits and vegetables without added sauces, sugar, and salt.
Modify your recipes for better health! If a recipe calls for sour cream, use non-fat or low fat plain yogurt instead. You'll reduce total fat, saturated fat, calories, and cholesterol!
---