Komen MA Why do you give? Video Features Community Servings
Program Highlight: Our Meals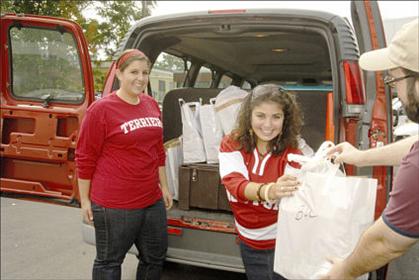 Our meals program improves our clients' quality of life, health, and ability to perform daily activities. Along with lunch, dinner and a snack, we deliver a message reminding our sick neighbors that they are not alone in their struggle with life-threatening illness.
---
Recipes
Moises' Rutabaga and Potato Gratin
This month's recipe, Rutabaga and Potato Gratin, comes from Community Servings' prep cook Moises Ramos Cruz. Moises, a graduate of our
Teaching Kitchen
program, is proud to prepare meals like this one for our critically ill clients. Moises used rutabaga that was generously donated by one of our community partners,
Land Sake Farms
, with fresh thyme to enhance its earthy flavor. The result is a sophisticated dish, but still simple enough to recreate in your kitchen. Give it a try!
Demographics
Clients by Community (Percentage)
Healthy Eating Tips
Frozen or fresh? Frozen fruits and vegetables are just as nutritious and tend to be cheaper than fresh, especially when buying out of season produce! Be sure to buy frozen fruits and vegetables without added sauces, sugar, and salt.
Watching your waistline? Be mindful of what your body tells you - eat when you're hungry and stop when you're full! And when you're done, get up and move around!
---