Komen MA Why do you give? Video Features Community Servings
Program Highlight: Our Meals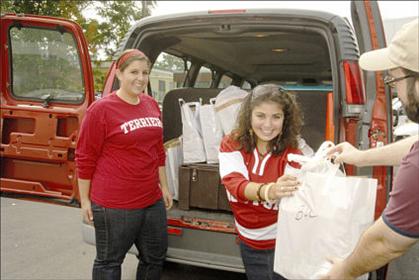 Our meals program improves our clients' quality of life, health, and ability to perform daily activities. Along with lunch, dinner and a snack, we deliver a message reminding our sick neighbors that they are not alone in their struggle with life-threatening illness.
---
Recipes
White Bean and Roasted Red Pepper Dip
Cook with beans! They are low-cost, delicious and are eaten in many cultures. In this recipe, beans replace the mayonnaise and cream cheese base usually found in dips. The result is less fat, more fiber and flavor.
Demographics
Clients by illness (percentage)
Healthy Eating Tips
Need an afternoon break? Coffee can wake you up, but then leave you tired again. Instead, grab a piece of fruit & a small handful of nuts and take a 5 minute walk& you'll be refreshed and full of long lasting energy!
Concerned about your cholesterol? Watch out for saturated fat! Saturated fat is commonly found in animal products. Choose lean meats and low fat dairy. Read food labels, and try to buy and eat foods with less than 2 grams saturated fat per serving.
---