Komen MA Why do you give? Video Features Community Servings
Program Highlight: Our Meals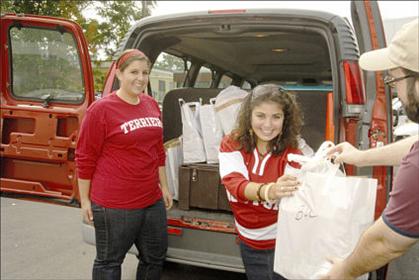 Our meals program improves our clients' quality of life, health, and ability to perform daily activities. Along with lunch, dinner and a snack, we deliver a message reminding our sick neighbors that they are not alone in their struggle with life-threatening illness.
---
Recipes
Seared Cusk with Rustic Tomato-Fennel & Italian Sausage Stew
This past weekend, Community Servings' Executive Chef Kevin Conner, along with Kitchen Manager John Ebersole, took home first place in The Boston Local Food Festival's annual Seafood Throwdown.
The secret, seafood-themed ingredient was Cusk, a clean, flaky, and mostly flavorless white fish. The dishes were judged on four categories: taste, originality, presentation, and use of all parts of the fish. In the allotted time of one hour, the two Chefs prepared a seared Cusk with a fresh tomato-fennel and Italian sausage stew.
Our team won by one point with a final score of 43-42. When asked about the Throwdown, Chef Kevin was quoted as saying, "Even if we had lost, I was just glad to get to show so many people the kind of food we make for our clients every day."
Here's how to make this winning recipe at home:
Demographics
Clients by gender (percentage)
Healthy Eating Tips
Frozen or fresh? Frozen fruits and vegetables are just as nutritious and tend to be cheaper than fresh, especially when buying out of season produce! Be sure to buy frozen fruits and vegetables without added sauces, sugar, and salt.
Did you know? The ingredient that's used the most is listed first on the food label. Read food labels to be sure you're buying what you really want.
---