Komen MA Why do you give? Video Features Community Servings
Program Highlight: Our Meals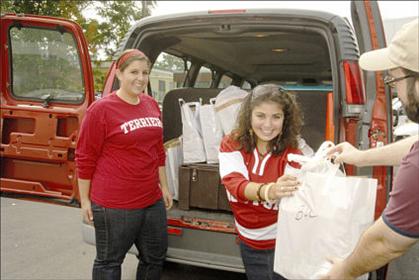 Our meals program improves our clients' quality of life, health, and ability to perform daily activities. Along with lunch, dinner and a snack, we deliver a message reminding our sick neighbors that they are not alone in their struggle with life-threatening illness.
---
Recipes
Tomato Basil Quinoa Muffins
Inspired from the online food blog, Heather's Dish, these earthy treats are packed with a ton of flavor and are high in protein and fiber.
Quinoa, which acts like a whole grain but is actually a type of seed, is good for digestive health and long lasting energy. Plus, balanced diets rich in fruits, vegetables and whole grains are linked to lower risk of chronic disease, such as heart disease, obesity and type 2 diabetes.
Demographics
Clients by illness (percentage)
Healthy Eating Tips
Frozen or fresh? Frozen fruits and vegetables are just as nutritious and tend to be cheaper than fresh, especially when buying out of season produce! Be sure to buy frozen fruits and vegetables without added sauces, sugar, and salt.
Modify your recipes for better health! If a recipe calls for sour cream, use non-fat or low fat plain yogurt instead. You'll reduce total fat, saturated fat, calories, and cholesterol!
---