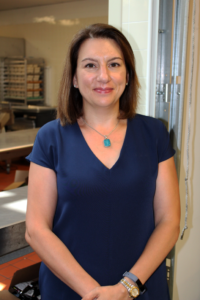 We're pleased to welcome aboard Valerie Machinist, MS, RD, LDN, to lead Community Servings' Nutrition Department and talented team of dietitians! As the Manager of Nutrition Services, Valerie collaborates with our chefs to develop and improve upon our medically tailored meals program, provides over-the-phone nutrition counseling and assessments to our clients, builds partnerships to expand nutrition education for our critically ill neighbors and community members, and much more.
"Food provides so much more than calories for people, especially when they are critically and/or chronically ill. The medically tailored meals Community Servings provides not only gives comfort, but provides appropriate nutrition to support positive health outcomes," says Valerie.
About Valerie
Valerie has over twenty years of experience as a registered dietitian nutritionist and health educator in a variety of corporate and public health settings, and her areas of expertise are management of chronic diseases, weight management and sports and exercise nutrition.
Prior to joining Community servings, Valerie was the National Director of Nutrition for Optum, a division of UnitedHealth Group. She has her Master's degree in Nutrition and Public Health from Columbia University and a BS in Nutritional Sciences from Cornell University. She also just completed her term as president of the Massachusetts Academy of Nutrition and Dietetics.
When not at work, Valerie can be found running, encouraging her kids to try new foods and reading cooking magazines.
Favorite Recipe
Valerie recently shared with us her favorite summer recipe – zucchini bread! Her version is made with wholesome ingredients like zucchini, yogurt, whole-wheat flour, and flax meal.
"My summer CSA share always provides me with more zucchini than I know what to do with! I love making this zucchini bread for my family," she says.