Volunteering During COVID-19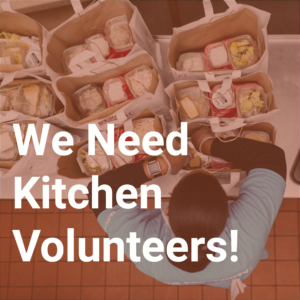 The state of Massachusetts has deemed Community Servings an essential business.  Our kitchen is open.
As part of our response to the coronavirus pandemic, we have temporarily modified our volunteer calendar.
Beginning Monday, March 30, the only shifts we will have available are Monday through Friday, from 9 a.m. – 12 p.m. and 1 p.m. – 5 p.m. We are in need of 10-12 individual volunteers to join a few members of our culinary team in the kitchen during those time frames. Unfortunately, we are unable to accept organized groups of volunteers at this time.
Please note that all kitchen volunteers are required to wear a face mask or other similar covering during their shift. Due to a limited supply, we ask that you bring a clean face mask with you. A bandana or other cloth face covering may also be used if you do not have a face mask at home. Click here to access the Center for Disease Control and Prevention's (CDC) instructions for making your own cloth face covering, including quick and easy no-sew versions.
Click the button below for more information or to sign up for a shift.
Learn More