A Mother's Story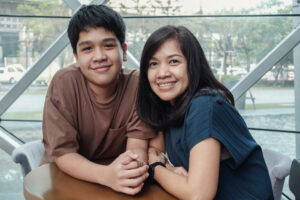 Four years ago, when we first met Vania, a mom from Worcester, she was reeling from an unexpected cancer diagnosis. She worried not only about her aggressive treatment—the removal of most of the lymph nodes in her neck and all salivary glands—but about how she would care for her son, if she could return to work, and how to afford food for her new dietary needs.

Vania's cancer is in remission, but her treatment has hindered her ability to eat for the rest of her life, so she must always consume soft foods that make swallowing easier. We intend to be there for her every step of the way. 
In addition, eating causes her stress and anxiety because she has a higher risk of choking. The meals from our kitchen not only ease Vania's mind, but they also provide the precise nutrition that could be difficult for her to receive on her permanent, medically-recommended diet.
"I feel more confident in my ability to eat. Community Servings has been a life-changer. Looking back, I can say without question that Community Servings has improved my health, made me more positive about eating, and helped me better understand the importance of nutrition."