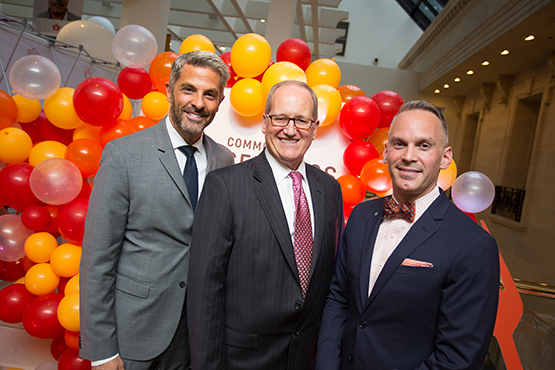 Community Servings is proud to announce that our annual LifeSavor gala raised a record-breaking $734,000, hitting a $10 million milestone in   the event's 25 year history. Held at The Langham, Boston on Thursday, May 4, 2017, surpassed our fundraising goal by more than $34,000 with the help of 850 guests. For every dollar raised at the event, 90 cents will go directly to providing medically tailored meals to homebound, critically ill individuals and their families.
"The funds raised by LifeSavor make it possible for us to continue providing our critically ill clients with beautiful and delicious medically-tailored meals, when they are unable to feed themselves or their families," said David B. Waters, CEO of Community Servings. "We couldn't accomplish half as much without the unwavering support of our restaurant and corporate partners, who have carried us to this unbelievable $10M milestone."
Presented by Citizens Bank, with title sponsors Blue Cross Blue Shield of Massachusetts and The Langham, Boston, LifeSavor kicked off at the hotel with a spectacular cocktail party and silent auction featuring more than 40 unique packages, including tickets to Lady Gaga's sold out concert, a luxurious trip to Australia, tickets to Bruins, Red Sox, Celtics, and Patriots games, and cooking classes at Christopher Kimball's Milk Street Cooking School.
After the cocktail reception, guests were transported to intimate dinner parties at more than 75 of Boston's most acclaimed restaurants, including Benedetto, Capital Grille, Craigie on Main, Deuxave, L'Espalier, Mooo…., No. 9 Park, Oleana, Parsnip, and Sorellina. Guests returned to the hotel for the After Party in The Reserve, at The Langham, Boston.
"As a board member, I am proud to be a part of the Community Servings family and support the remarkable work they do in Massachusetts," said Rick Musiol, Jr., Senior Vice President, Public Affairs, New England for Citizens Bank and event co-chair. "Surpassing the $10 million goal is an enormous milestone for LifeSavor and everyone that has supported it over the past 25 years. I am so thankful for all those who came out in support this year."
"I've been a LifeSavor co-chair for three years and it never ceases to amaze me how the community comes together in support of Community Servings' mission to feed our most vulnerable neighbors," said Jeff Bellows Vice President, Corporate Citizenship & Public Affairs of Blue Cross Blue Shield of Massachusetts and event co-chair. "We understand that the work being done is critically important to improving the health to people in Massachusetts communities."
Thanks to everyone who helped make our 25th Anniversary LifeSavor such a success!
View the LifeSavor Photo Album on Facebook.