Our Meals4Moms fundraiser is a wonderful way to send a sweet token of appreciation to your loved ones while supporting a mother and her family struggling with a critical or chronic illness. Annual holidays like Mother's Day help remind us to celebrate those who have supported our journey through thick and thin, from family to friends to community.
And we at Community Servings wouldn't be able to advance our mission without our community of supporters. With a whole lot of gratitude, we want to honor and celebrate the local businesses behind Meals4Moms. All of our sponsors – McCrea's Candies, Pilgrim Waters Design, Gold Star Studios, and Franklin Printing – have poured their heartfelt donations of time, effort, and product into Meals4Moms. Their collective efforts will continue to help us feed even more local mothers and families in need.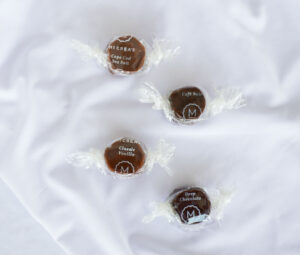 At the heart of Meals4Moms, McCrea's Candies is what makes this fundraiser so sweet! For a $65 and $95 donation, honorees receive an exclusive assortment of gourmet caramels with flavors of Cape Cod Sea Salt, Café Noir, Classic Vanilla, and Deep Chocolate. Proudly produced by hand in Boston, each caramel uses premium, all-natural ingredients, and locally sourced cream, milk, and butter, which makes for a decadently rich experience. And McCrea's continues to innovate with their sophisticated flavors, including Ginger Fusion, Single Malt Scotch, Rosemary Truffle Sea Salt, and Tapped Maple. We couldn't dream of a more worthy treat to honor Mom than McCrea's award-winning caramels!
Not only do our gift boxes taste good, but they also look good. Artist Susy Pilgrim Waters created a custom, florally inspired design using fresh, vibrant shapes and colors to represent the essence of Meals4Moms. By making a $30 donation, your honoree will receive one of Susy's beautiful cards along with a personalized message. In tandem with her husband, Susy owns PilgrimWaters, a Boston-based home lifestyle company creating modern textiles and small furniture pieces. She has also illustrated for The New York Times, American Airlines, Simon and Schuster, Caffe Nero…and our own Dinner4Dads fundraiser!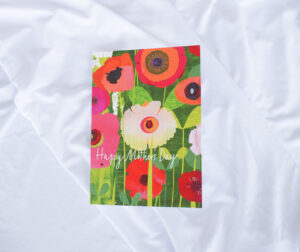 Graphic designer Noel Danforth of Gold Star Studios adds the final touch to our cards and gift boxes by seamlessly merging image and word. Her visual expertise clearly communicates our mission and fundraiser to recipients, further spreading the word on Community Servings. With the product, art, and design complete, our friends at Franklin Printing fire up their machines and roll out hundreds of crisp cards and box toppers. We receive the final products at our Boston headquarters and send them out to all of the honorees, just in time for Mother's Day.
We're so grateful for the continued support of our Meals4Moms sponsors, McCrea's Candies, Pilgrim Waters Design, Gold Star Studios, and Franklin Printing!
To support Meals4Moms, place your order now! https://www.servings.org/meals4moms/