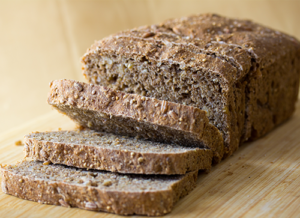 Consuming whole grains instead of white or "refined" grains can help lower cholesterol, keep blood sugar levels steady, and provides an excellent source of Vitamin B, Vitamin E, and minerals.  When shopping for whole grain items like wheat, rice, corn, barley, oats, or quinoa, our nutritionists recommend checking the packaging for the words "100% whole grain." Products marked "whole grain" will often contain both whole and refined grains.
Tips on Identifying Whole Grains:
Read the packaging!

Look for the words "100% whole grain." A product that says "whole grain" will contain some whole grains but also some refined grains.
Check the ingredient list. If the food is high in a whole grain, it will be listed as one (or more) of the first ingredients. These words do not necessarily mean whole grain: bran, multigrain, stoneground, enriched wheat flour, and 100% wheat flour (these last two are refined white flour!).
Read the nutrition label. Most whole grain products will have at least two or three grams of fiber.