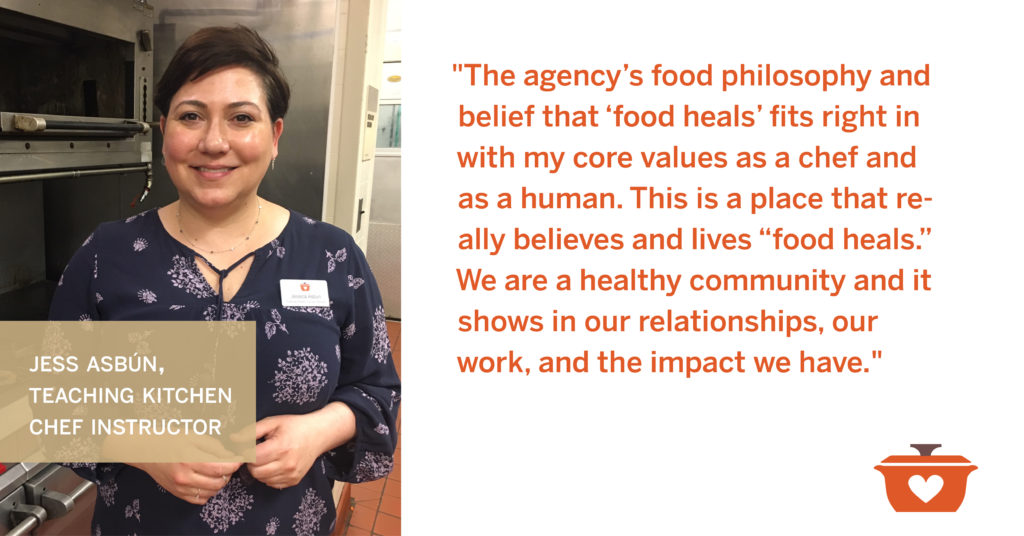 Meet Jess! Jess joined us as Community Servings' Teaching Kitchen Culinary Instructor in March 2019 and with her brings a lifetime of cooking experience and a passion for all things food. As she's about to graduate her first Teaching Kitchen class, we sat down with her to learn more about her love for cooking and what brought her to Community Servings.
What's one of your favorite foods?
Hummus, tahine, fresh baked pita, and falafel. My Abuelita used to make a baked falafel, she was a health fanatic and preferred baked foods over fried foods of course.  She did however indulge me, and sometimes would fry the falafel and serve me a special "snack" after school.  It was this perfect mix of freshly baked bread, garlicky tahine, a crispy cold cucumber and tomato salad covering a few crunchy and steamy and absolutely delicious falafel balls that I would drown in hummus.  Every time I think of it my mouth waters and I just want to eat her food, in her kitchen, with Argentinian Tango music playing in the background.
How long have you been cooking?
All my life- but definitely not on the same level that I cook now. I grew up in an Arab household in Bolivia, South America. My dad's family immigrated to Bolivia from Palestine, and Bolivia has an awesome food culture combining traditional Andean, Jewish, Arab, Peruvian-Japanese, and Spanish cooking.  However, of all these foods, I definitely favor Middle Eastern food. When I was a kid, I looked forward to Friday evenings all week, when my Dad's mom, my Abuelita, would start prepping for our Sunday family meal- which fed anywhere from 15 to 30 people at a time. I remember always wanting to be in the kitchen with Abuelita, always wondering what delicious things she would create.  I would sometimes bring my homework over to her house and work on it in the kitchen, just so that I didn't miss anything she was doing. Today, I cook all the foods she used to cook for our family and friends. When I smell certain foods, I always think of her and remember when our family would gather at the table, share our lives, give thanks, and commune with food.
How long have you been a culinary instructor?
I've been instructing for five and a half years and kind of fell into it by accident. I had a restaurant in Charlestown – Jessica's Table – and I started teaching classes when the restaurant was closed. I then moved on to teaching kids with autism before starting a job with a similar mission to Community Servings' Teaching Kitchen job training program.
Why did you want to come work at Community Servings?
I actually heard about Community Servings through a former Teaching Kitchen graduate. I didn't go to school to become a chef, it happened later in life for me, and in that way, I can relate to the students in our class.  This is my passion and I am grateful I can share it with everyone around me.  So far, working at Community Servings has been life changing – this is my ideal job. I really like to teach people about food- the technique, the proper terms, the history. I love seeing that "little" spark light up in a student's eyes when they have accomplished something, when they finally conquered their knife cuts!
What do you like about working at Community Servings?
I LOVE working here!  I've wanted to work at Community Servings for years.  The agency's food philosophy and belief that 'food heals' fits right in with my core values as a chef and as a human.  We feed food insecure individuals – we nurture and nourish our critically ill neighbors with healthy and nutritious meals. We also teach our trainees to give back, pay it forward, to be grateful for new opportunities and friends, and to put themselves first through our job training program.  This is a place that really believes and lives "food heals."  We are a healthy community and it shows in our relationships, our work, and the impact we have.
What's it like to work with the trainees?
The dynamics of the class is always changing.  You have good days and you have not so great days. It's like a wave – always changing – and you just have to be a surfer and ride the adventure learning from and appreciating every moment!
Looking back on this last class – was there a technique that was most difficult for trainees to learn?
Fish, specifically filleting fish! The trainees butchered it at first, but then got the hang of it and produced some lovely fillets.  The not-so-pretty salmon became a delicious tartare that we served with a home-made flatbread and fresh greens.
Was there a favorite trainee dish or technique?
This class has a knack for working with dough. We have had a lot of fun incorporating different kinds of breads with our recipes.  I think my favorite has been the potato bread we made to accompany a carrot-ginger soup and the English muffins we made from scratch, during egg week, for our eggs benedicts.  I would eat brunch in our Teaching Kitchen over any restaurant, hands down.
Tell me something I haven't asked.
I met Uri Buri, the "Bearded Chef" in 2016. He's a renowned Israeli chef, known for his food of course, but also for bringing together Jews and Arabs with food, in commercial kitchens; all topics that resonate with me.  Uri was visiting Boston for an event and I got to cook with him through my previous job and learn different techniques for making the Middle Eastern food that I grew up with and love.  He approved of my Shakshuka and said I could use my own flatbread and za'atar recipe to accompany his appetizer.  I was beyond thrilled and really excited to connect with someone so talented, accomplished, interesting, and devoted to his craft.  Naturally, I asked him a million questions and even offered him a ride – just to sneak more time with him and hear more of his stories.  Uri was very humble considering that he is one of foods biggest influencers.  If I ever travel to Israel you bet I will be taking the time to experience his kitchen.
Thank you, Jess, for your culinary passion and talent, and for all that you do to support our trainees!