By Ethan Ouimet, RDN, LDN
In commemoration of World AIDS Day, we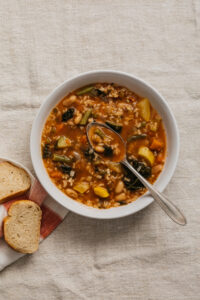 at Community Servings wanted to take this opportunity to discuss why this day dedicated to raising awareness for AIDS is so meaningful to us. If you are familiar with Community Servings, you may know that we provide food for people with critical and chronic illnesses across Massachusetts. Not just food – nutritionally-appropriate medically tailored meals for people experiencing diabetes, chronic kidney disease, cardiovascular diseases, and more.
But what you may not know is that Community Servings originated with a much more specific mission in mind. Community Servings was founded more than 30 years ago at the height of the AIDS epidemic to provide home-delivered meals for people living with HIV/AIDS in the Boston area. Over time, the number of clients and types of illnesses they're experiencing has significantly expanded. Still, our dedication to providing meals and services to people living with HIV/AIDS has remained the same. With more than 23,000 people in Massachusetts living with HIV, this mission remains as vital as it has ever been. While HIV may not come to the top of your mind when you think of nutrition-related illnesses, food and food access play a crucial role in HIV management.
What is HIV/AIDS? HIV stands for Human Immunodeficiency Virus, and it works by attacking the body's immune system. The virus attacks immune cells called CD4 cells, which identify and destroy foreign organisms in the body. Left untreated, the number of CD4 cells in the body decreases, and it becomes more difficult to fight off infections. A deficient number of CD4 cells left in the body results in a diagnosis of AIDS. In other words, AIDS is a disease caused by the damage HIV has on the immune system.
How is HIV/AIDS treated? Unfortunately, there is currently no cure for HIV, but the treatment of the virus has significantly improved over the years. Treatment typically consists of one or more medications used to help prevent the growth and spread of the infection.
Why are proper nutrition and food access so important? Nutrition plays an essential role in maintaining a healthy weight and preventing chronic diseases associated with HIV infection. In fact, HIV infection and medications are associated with several nutrition-related health outcomes that we'll break down into two contrasting categories for this article.
HIV can be associated with severe weight loss, muscle wasting, body fat loss, and undernutrition. These symptoms are more likely to occur in those with more severe or poorly controlled infections. In addition, significant weight loss can further increase the risk for opportunistic infections.
In contrast, the new generation of HIV medications is associated with an excessive increase in body fat, creating a higher risk for certain chronic diseases. For example, type 2 diabetes mellitus is 1.5 times more common in people with HIV, putting them at greater risk for complications such as cardiovascular disease, chronic kidney disease, and early death. However, it is more likely to occur in those who are overweight or obese when beginning treatment for HIV.
Proper access to healthy, nutritious foods can go a long way toward helping people living with HIV reach a healthy body weight, reduce the risk of opportunistic infection, and prevent or manage other chronic conditions such as diabetes.
What is Community Servings doing to help combat these issues and support this population? Food insecurity (defined as the lack of access to sufficient food, or adequate food quality, to meet basic needs) remains a critical challenge faced by many people living with HIV. In fact, food insecurity is 2-3 times more common among people with HIV than those without the disease. As mentioned, food insecurity can lead to increased medical complications and higher costs of healthcare. Community Servings helps mitigate this problem by providing free, home-delivered medically tailored meals designed to meet the nutritional needs of our clients. Additionally, we offer free nutrition counseling for all our clients to help them make good decisions when it comes to their food to help support a healthy lifestyle.
Interested in helping to support our mission? There are many ways to help support our mission to improve food access and health outcomes for people living with HIV! Here are a few ways you can help:
Volunteer: As one of Boston's largest volunteer programs, we welcome volunteers of all abilities to prepare meals in our kitchen, occasionally deliver meals to clients, and help with our fundraising efforts and special events. For more information on how to sign-up and what to expect when volunteering, please visit Volunteer | Servings.
Donate: Donations of any amount are welcome and appreciated. A gift of just $30 helps provide a week's worth of nutritious meals for a critically ill neighbor. For more information, please visit Donate | Servings.